Meet our artisan Tsultim Dolker from Tarchit village. When we asked her about how she learnt this art she eagerly said, "My father Gonbo was a trained basket weaver from our village and he used to make many baskets. One day he was sick, and he was worried about the materials that are used to make the basket as he had collected it long back".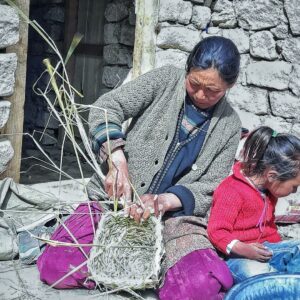 Knowing about his concern I said, "Father, I will weave a basket for you". But he denied it and said, it is an art that you have to learn first. Then I assure him that I will learn it no matter how and never let the materials get wasted. I tried to weave but for the first time, it was a bit difficult but later on with practice and with my father's suggestions I learned it well. Since then she is weaving baskets. "Earlier only men used to weave baskets but it never stopped me to go and weave my own basket. I am very proud to be a female basket weaver".
Tsultim Dolker is a basket weaver and she is a living example of an artisan in the entire Rong belt of the Changthang region breaking the stereotype that man can only weave. Moving forward, Ladakh Basket will source the baskets from her. We are very happy and proud to associate with her as she is trying her best to revive and preserve our old art, tradition and culture.
[/vc_column_text][/vc_column][/vc_row]